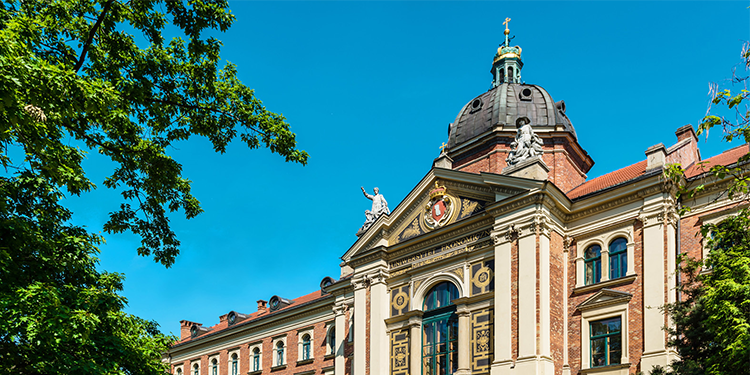 Cracow University of Economics
Cracow University of Economics, founded in 1925, is the largest university of economics in Poland. Situated in Krakow, a leading Polish academic center, it is proud of being ranked in the top schools of economics within the country. The University consists of three colleges: College of Economics, Finance and Law (28 Departments), College of Public Economy and Administration (12 Departments), College of Management and Commodity Science (25 Departments).
The CUE is a modern and progressive university with about 13 thousand students, including nearly 1000 international students, making an important and valued part of the academic community. It offers exchange programmes through Erasmus+, CEEPUS, ENBS, Double Diploma, STEP or bilateral agreements
Cracow University of Economics offers study programmes in Polish and in English on all levels of higher education: Bachelor's, Master's and Doctoral. Different study majors have international accreditations, e.g. ACCA (Association of Chartered Certified Accountants), EPAS (European Programme Accreditation System), EAPPA (European Association for Public Administration Accreditation), EAQUALS Accreditation. Several programmes are also certified by international organizations, e.g. CEPI (European Association of Real Estate Professions), CIMA (The Chartered Institute of Management Accountants), CFA Institute (CFA - The Chartered Financial Analyst Certificate), EFCB (European Foundation Certificate in Banking), IPMA (International Project Management Association).
The University is a member of prestigious international organizations and networks such as EUA (European University Association), NIBES (Network of International Business and Economic Schools), UNECC (University Network of the European Capitals of Culture), MAGNA CHARTA OBSERVATORY, CESEENet (Central and South-East European PhD Network). It has over 250 partners across the world and cooperates with universities and various organizations from Europe, both Americas, Australia and Asia. The Cracow University of Economics is involved in international research projects, including the EU's Framework Programmes.
Link :
https://ie.uek.krakow.pl/katedry/katedra-przedsiebiorczosci-i-innowacji/projekty/
https://biznes.uek.krakow.pl/stepup-strengthening-innovative-social-entrepreneurship-practices-for-disruptive-business-settings-in-thailand-and-myanmar/
Coordinator
Dr. Agnieszka Żur
E-mail: zura@uek.krakow.pl
Work Package 2 Leader "Social Entrepreneurship Knowledge Transfer & Capacity Building of trainers and students"